From 1st December 2018, old collaborative files on Google Drive are now read-only, as announced a few months ago.
To restore editing capabilities, the owner of the file must convert it to the new file format. Other collaborators will only see the file in view-only mode.

If you are not the file owner: you will need to contact them to request the conversion. You can find out who owns a file by opening the Google Drive web application, right-click the file to get the details, and check the owner listed in the details.
If you are the owner of the file: When you open a map still in the old collaborative format, you will get a prompt asking to convert the file. Just click on the Convert to New Format button to create a new file with a copy of the content.
The new file will be editable and you can continue working on it. Please note that the new file is a copy, and old collaborators do not automatically get access to it. If you wish, you can share the new file with your colleagues using the standard Google Drive sharing mechanisms, including the top right share button in the MindMup application.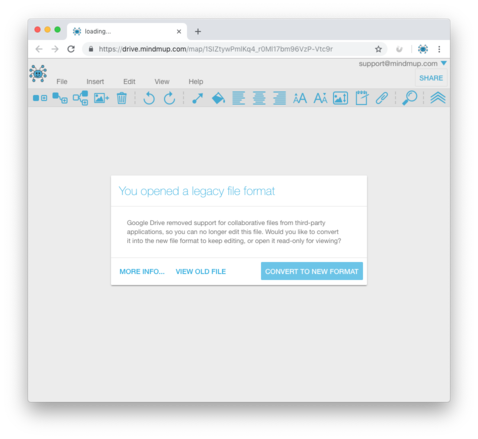 Still have problems?

Contact us so we could assist.