This document outlines the key information for people currently using Google Drive with MindMup, about file conversions and upcoming migration from the Google Drive Realtime collaboration platform for MindMup. This document is intended as a quick summary for end-users. For more technical information, and for relevant administrator tasks, check out our resource page on the migration.
Basic information
If you want to keep using Google Drive…
If you want to start using the MindMup Cloud collaboration platform…
Basic information
For security and privacy reasons, the MindMup application does not have off-line access to your files on Google Drive, so we cannot take the data out of the Realtime format and convert it without your explicit authorisation.
If you want to keep using Google Drive…

Alternatively, select File -> Convert to Drive File in the main application menu. This option will be visible for old collaborative maps owned by you or stored on your Team Drive.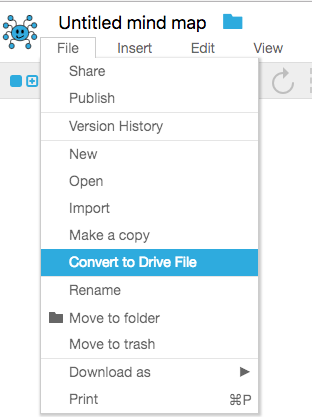 Another major change is that, for Drive users, you will be able to just use the normal Drive features to manage file version history, copy files and use them in Google Classroom and similar products.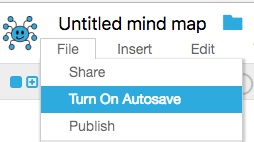 This will send the new content to Drive every minute. To turn auto-saving off, select File > Turn off Autosave. For more information on auto-saving, check out our guide. Please note that this is unsafe for multi-user work, and you should use the MindMup Cloud storage for that scenario instead.
If you want to start using the MindMup Cloud collaboration platform