MindMup Gold subscriptions are associated with e-mail addresses, so as long as you are logged on with an address that has an active subscription, you will be able to use Gold services.
Using Gold with maps on MindMup Cloud
To log in to MindMup Gold, use the Sign In button in the top-right corner of the map editor.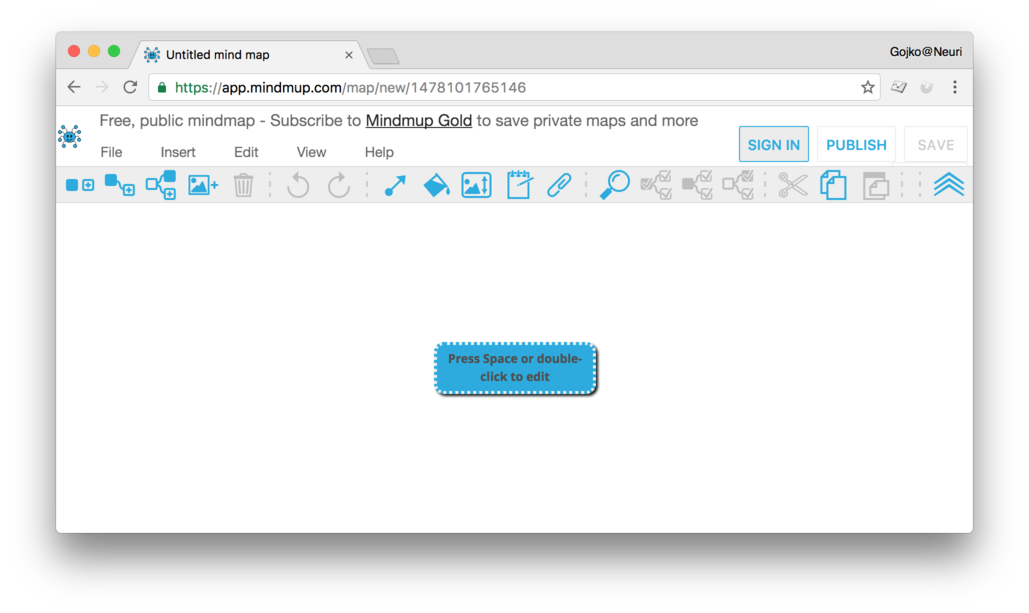 This will show a pop-up dialog offering two options to sign in:
Using a Google account

If your e-mail is a Google or Google Apps e-mail (including Google Apps for Work domains, and Google Apps for Education), you can sign in using Google instantly, without having to wait for a password to come to your e-mail. Just click Sign in using Google.

Using E-mail

To avoid having to remember yet another password, MindMup will generate a temporary one-time password for you and automatically send it to your e-mail. If you want to sign in using a temporary password sent to your e-mail, enter the e-mail address in the text field and click on Send Email.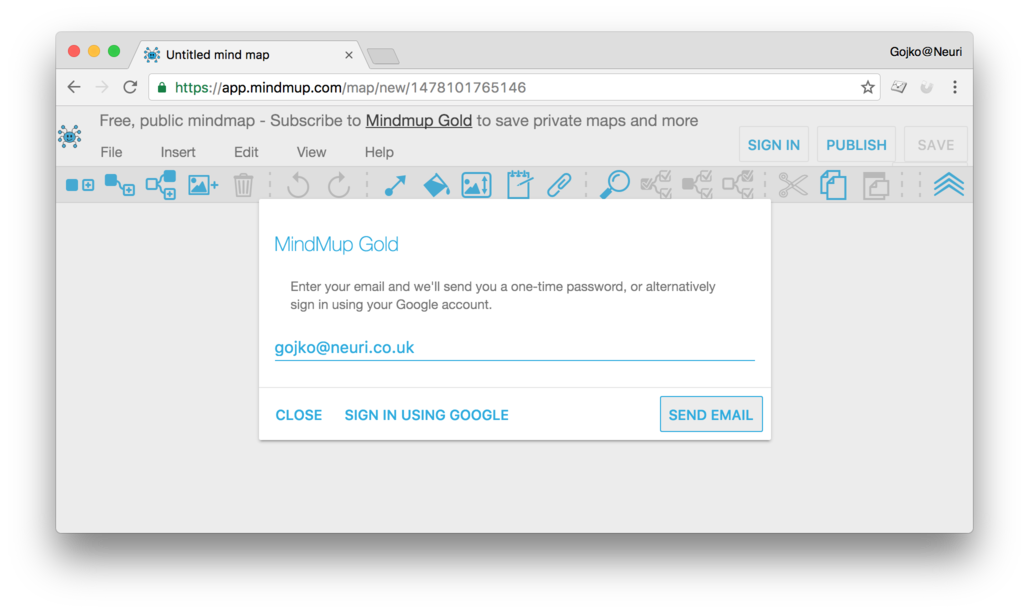 MindMup will send you an e-mail with a temporary password. The password in the email is one use only, is only valid on the browser that requested the password and each password request invalidates any previous codes sent, so if you request multiple passwords, only the last one requested will be valid.
The e-mail is sent immediately, and if you do not receive it in a few seconds, check your spam filters. Also, some email servers use greylisting to reduce spam, which can initially delay receipt of emails.
When the e-mail arrives, copy the one-time password and paste in the text field in the next step of the log-in dialog. Then click Finish.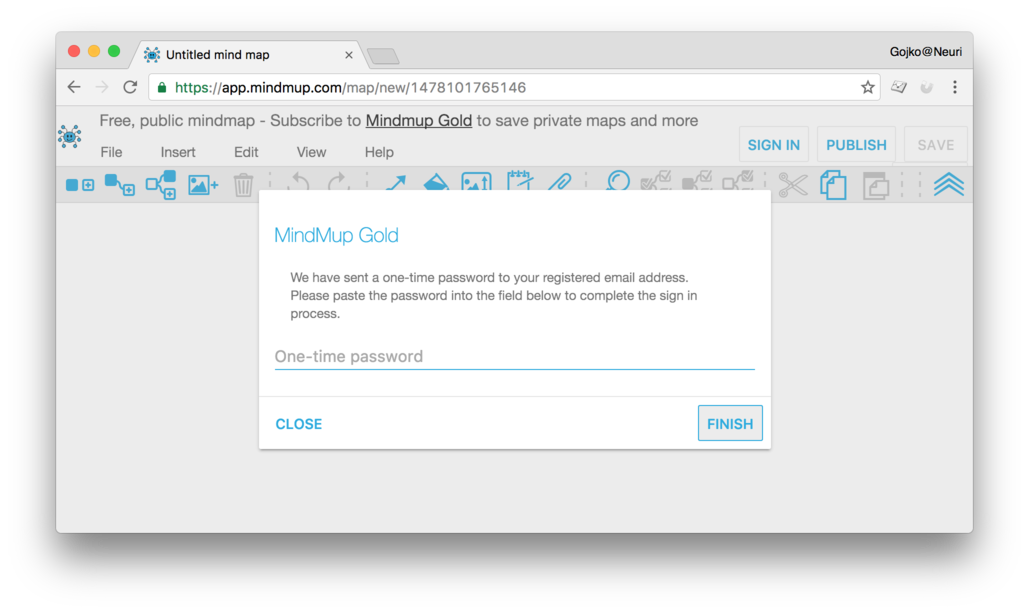 You should now be signed in, and your account name will show up in the top right corner of the browser window. Click on the account name to show options to sign out and manage your Gold subscription.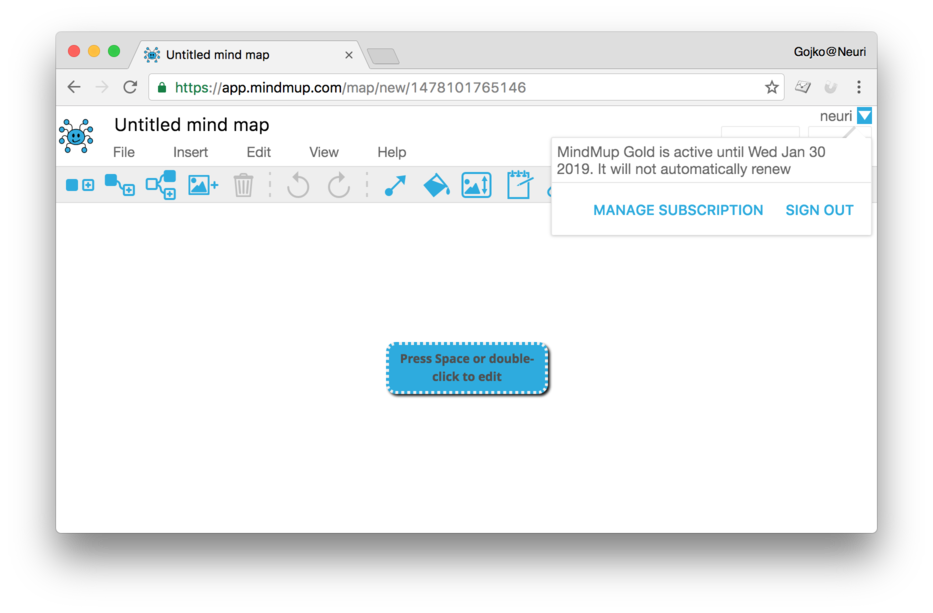 Using Gold with MindMup for Google Drive
When using MindMup 2 for Google Drive, you are logged on to Google services directly. MindMup uses the account currently signed in to Google Drive to authorize Gold services, so there is no need to sign in separately to Gold. You can see the currently signed-in account in the top right corner of the map editor, and change the active account using the Change Account button.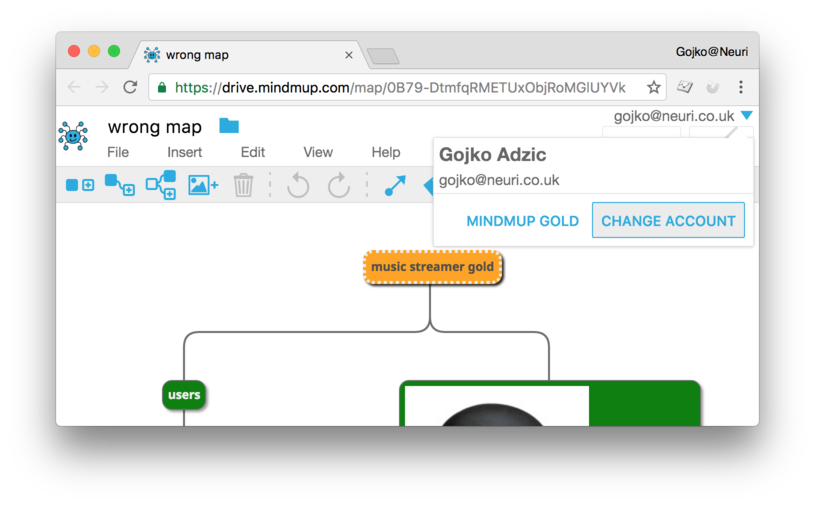 More information
For additional assistance, or if you have questions about MindMup Gold, please contact us.